Impressions Adding Value Does Not Stop After Your First Visit…..
Platinum Card
After your first visit to the salon, we will issue you with our platinum card that delivers 3 discounts which are usable over nine months, giving you even more value for money each time you visit Impressions.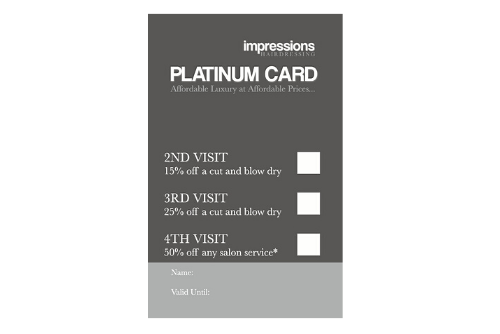 After Platinum Card Comes……………..
Loyalty Card
Ok, so you are probably fed up with everywhere, you go giving new customers the special deals, while you, the loyal customer, gets ignored. loyalty pays at Impressions.
Here at Impressions, we like to thank our loyal customers for helping us to be successful.
Every time you visit the salon, we mark your loyalty card, and on your 8th visit, you can receive a massive 50% discount on any salon services.
Recommend A Friend
Its often said that a recommendation is the best way of building any successful business hereat Impressions, we believe what comes around goes around. If you are kind enough to help do our marketing for us, the least we can do is reward you for your efforts…………….
If you would like to recommend a friend or family member, go to the link below and sign up for our online referral program. It will give you a personal link that you can share.
When a friend uses that link, they will receive a code for 50% off their first cut and finish with us, and you will receive a code for 50% off your next cut and finish as a thank you for recommending us.
Go HERE to get a personal recommendation a friend link.