What Causes Dull Hair?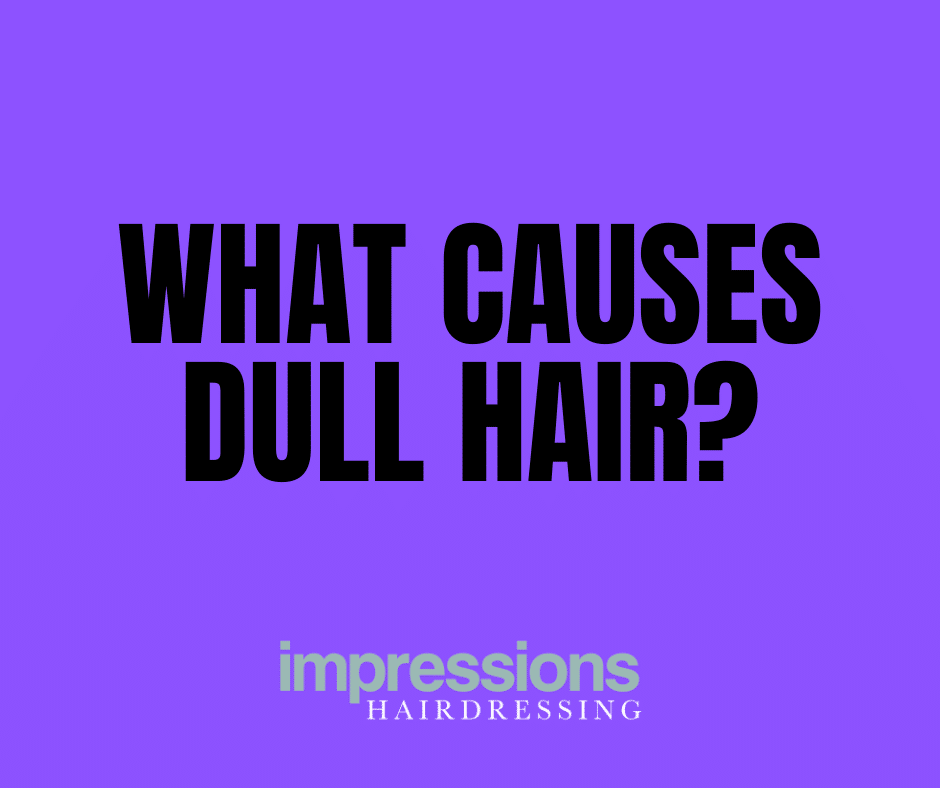 Dull and lifeless hair can make you look older. It may be caused by using the wrong products or a diet that is lacking in vitamins and minerals. This blog post will share with you some of the reasons why dull hair occurs and what to do about it.
Key areas to look at are…..
What You Eat or Don't.
Your hair can often be the canary in the coalmine, by that I mean it can show up discrepancies within your diet. Some of the natural remedies mentioned below are just adding externally often what people aren't consuming internally !!!
Make sure you are drinking enough water getting plenty of vitamins via your food and that some of your food contains a good mix of fruit and veg.
How Much Sleep You Are Getting?
As mentioned your hair can be telling you something often about your lifestyle. Make sure you are getting plenty of quality sleep. This will benefit you beyond just having shiny hair 🙂
How White Or Not Your Hair Is
Look you don't want to chase a target you cant hit. The darker someone's hair is the better it reflects light. So, for example, brown hair often looks shinier than blond hair.
As we go whiter our hair often will look less shiny. This is not to say you should colour it darker! All this would do would make the artificial colour too harsh up against your skin tones. Its just worth considering.
Of course, you can talk to your hairstylist about ways to use colour to enhance your white hair without using harsh bleach products that might make the hair duller.
Extremes Of Weather And Central Heating.
Beare that factors such as central heating can really dry your hair out and reduce its shine. Plus going in from very cold weather into centrally heated rooms will reduce shine.
This is pretty unavoidable however being aware of this impact on your hair means you can use a professional-quality conditioner that will replace the loss of moister will help return your hairs balance.
Over Processed Hair
This is probably the most obvious. If your hair is over-processed with bleach for example it's going to be very difficult for your hair to shine.
Always chat to your stylist who may be able to use colouring techniques that have a lower impact on your hairs condition.
How Can I Make My Dull Hair Shiny?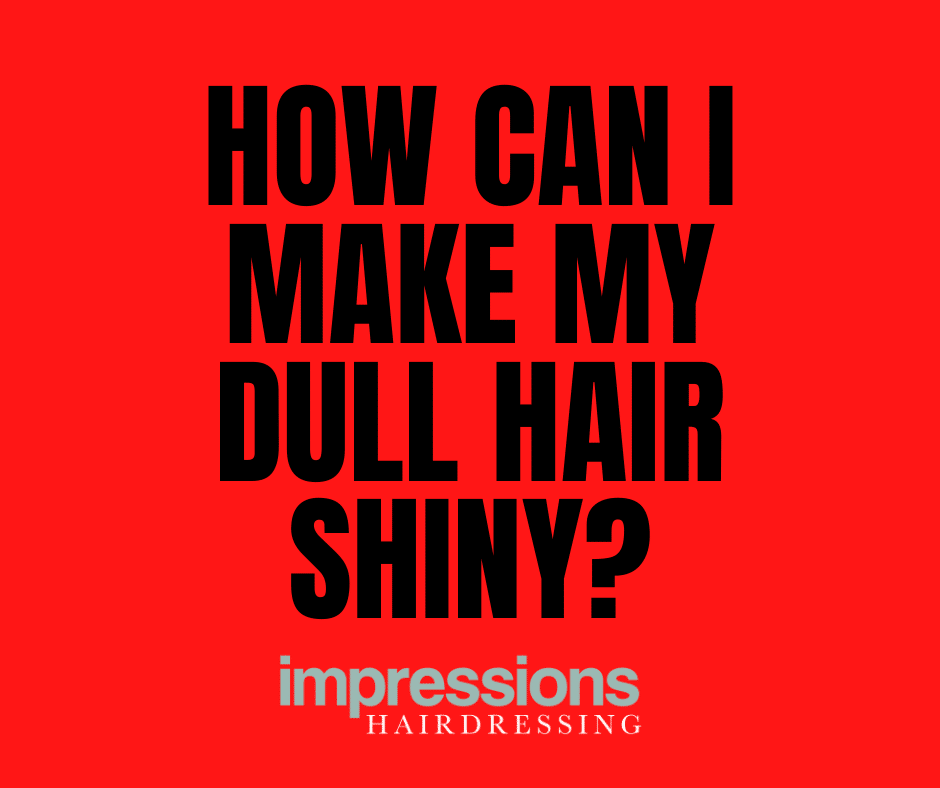 1. Wash your hair with a clarifying shampoo
Did you know that using a clarifying shampoo can help "reset" your hair? The product will strip remove the buildup of products and natural oils, leaving you with fresh, clean hair!
2. Apply leave-in conditioner before you blow-dry or style your hair
Using a good quality leave-in conditioner can often improve the shine and lustre of your hair.
3. Use heat protection spray before using any hot styling tools on your hair
Using a blow dryer or tools such as straighteners can have a drying impact on our hair. By spraying a heat protector through the mid-lengths it will work in a similar way that you might put suntan lotion on.
It does not protect you a 100% however it will reduce the impact on your hair partially if your hair is fine hair.
Styling products such as heat protection spray I often arent being used by many clients who use very hot straightening irons on their hair which is going to lead to damage leading to dry hair and a lack of shine.
What Is The Best Hair Shine Product?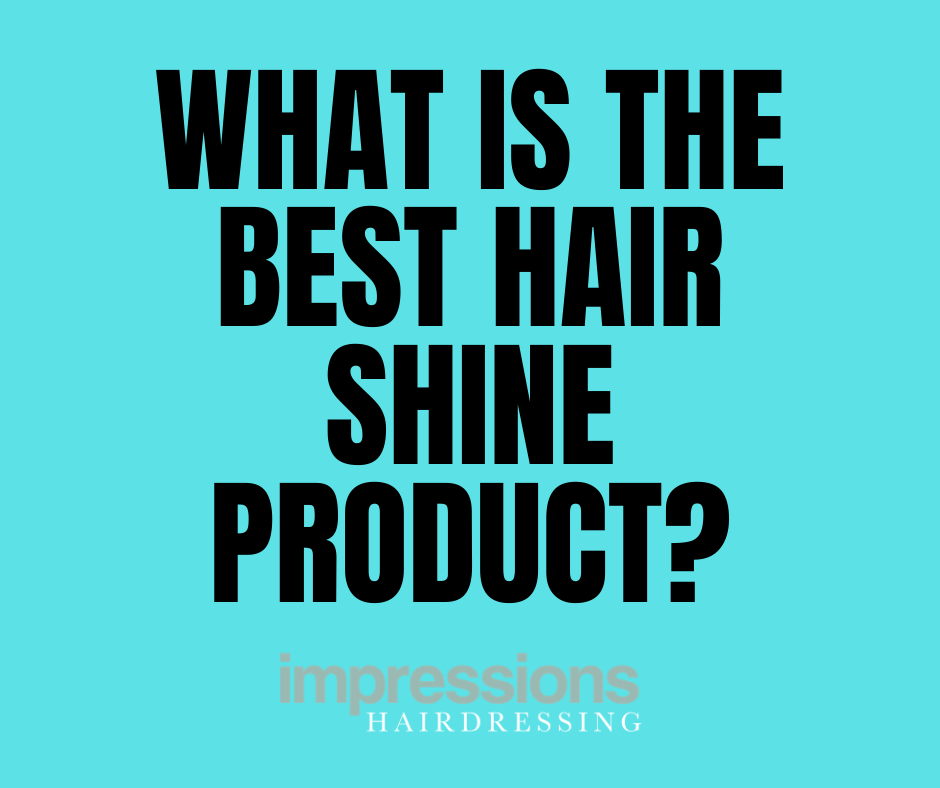 Benefits Of Argon Oil
1. Argon oil is rich in antioxidants and can help to protect your hair from environmental damage.
2. Argon oil helps to repair damaged hair, making it stronger and more resilient.
3. Argon oil can be used as a deep conditioning treatment for dry, brittle hair.
4. Argon oil helps to improve the appearance of split ends by sealing up the cuticle layer of the hair shaft.
I also love the Super Skinny Serum by Paul Mitchell
How Can I Make My Hair Shiny Naturally?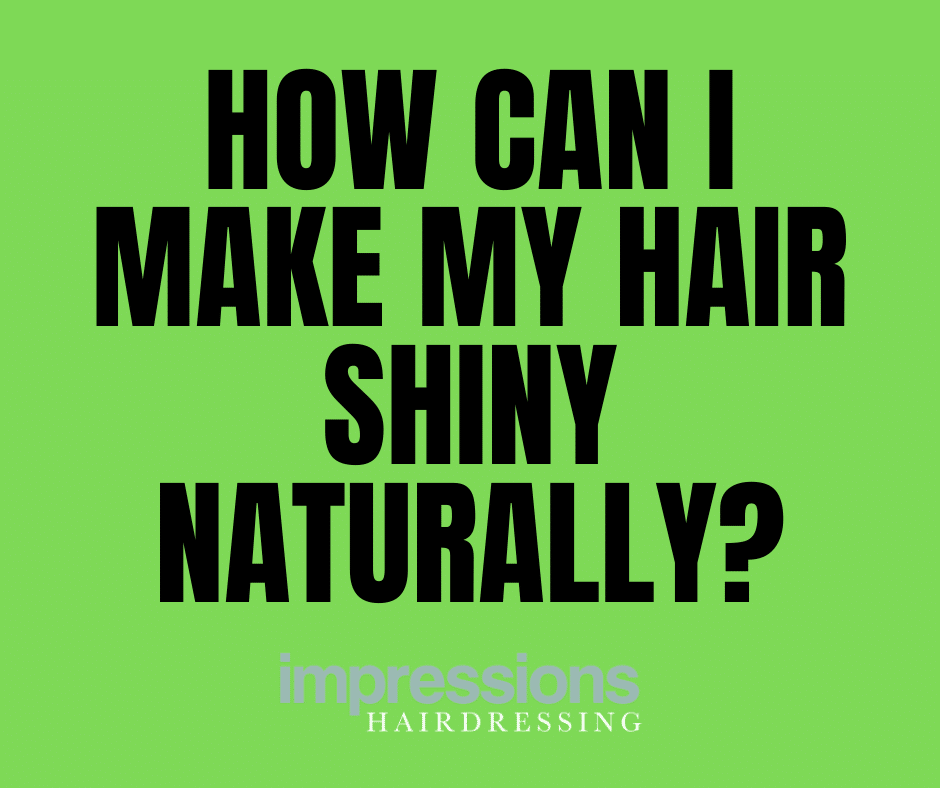 Rinse With Cool Water
A simple and very natural way to add shine to your hair is a cold rinse after you have condoned your hair … if you can bear it 🙂 It helps close the cuticles of the hair adding to the shine of your hair.
I often use the cold shot option on my hairdryer at the salon near the end of a blow dry that has similar results.
Beer Rinse Or Conditioner
A good way to make your hair shinier and less frizzy is by using beer as a conditioner. Apply the flat beer from the scalp down to the tips of your hair, then massage your head for 5 minutes. Allow it to soak in for ten minutes before rinsing with lukewarm water and shampooing twice with a mild sulphate shampoo. This process should be repeated once or twice a week at night while you're watching TV!
Avocado And Banana Mask
There are a lot of hair masks out there, but have you ever tried an avocado and banana one? This mask will make your hair shine like never before. All you need for this recipe is 1 ripe avocado, 1 more banana if desired, and about 2 tablespoons of almond oil. First, mash the avocados so they're as smooth as possible. The next step is to add the peeled bananas to it – or more if desired – and stir well along with the almond oil in order to create a paste that spreads easily over your scalp. After you've applied this mixture thoroughly all over your head (covering it with a shower cap while applying) be sure to rinse off completely with lukewarm water afterwards!